We have been pushing hard on the Data Journalism front- here is some work we did recently.

So, with the Delhi assembly elections weeks away, we decided to dip a barometer into the social media world to gauge the political chatter.
We looked at re-tweets — a re-tweet is seen as an endorsement.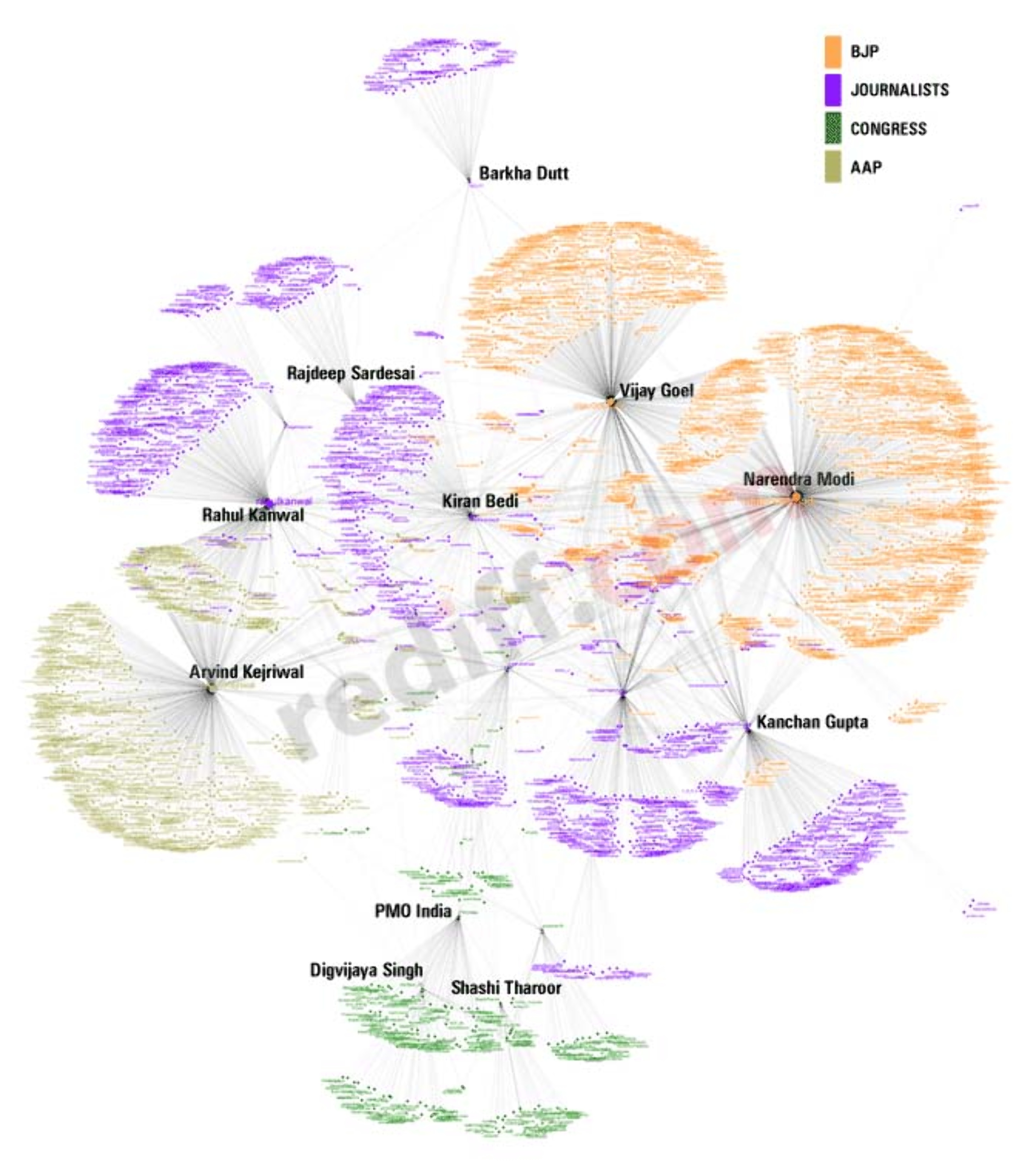 And we chose what you can call the twitterati — people who make an effort to be heard on Twitter; many are journalists and in that sense their influence may be disproportionate to their numbers.
We looked only at re-tweets from the Twitter ID of these personalities — such as Congress politicians (digvijaya_28, JhaSanjay, priyankac19, PMOIndia), Bharatiya Janata Party politicians (RajnathSingh, SushmaSwaraj, narendramodi, nitingadkari, VijayGoel), Aam Aadmi Party members (sanjayazadsln, ArvindKejriwal, AapYogendra, thekiranbedi), and high-profile journalists (KanchanGupta, swapan55, minhazmerchant, madhukishwar, sardesairajdeep, BDUTT, sagarikaghose, vikramchandra, AmolSharmaWsj, SachinKalbag, madversity, rahulkanwal).
We focused on re-tweets about topics that matter to Delhi-ites — such as elections, law and order, power cuts, women's safety, corruption, inflation, unemployment, Lokpal, ordinance, Batla House, onions, Delhi, rapes, electricity, prices, cost, traffic, water, shortage, scarcity.
As you can see from re-tweets for six days ending October 30, the Delhi twitterati have overwhelmingly endorsed stuff from BJP and Aam Admi sources.
The official Congress sources and even the Prime Minister's Office are soft voices, barely audible on these Delhi-centric topics.
You can see a close-up of this here
In the coming days we will show you who the most active re-tweeters are for each party and what topics excite them to re-tweet to most.