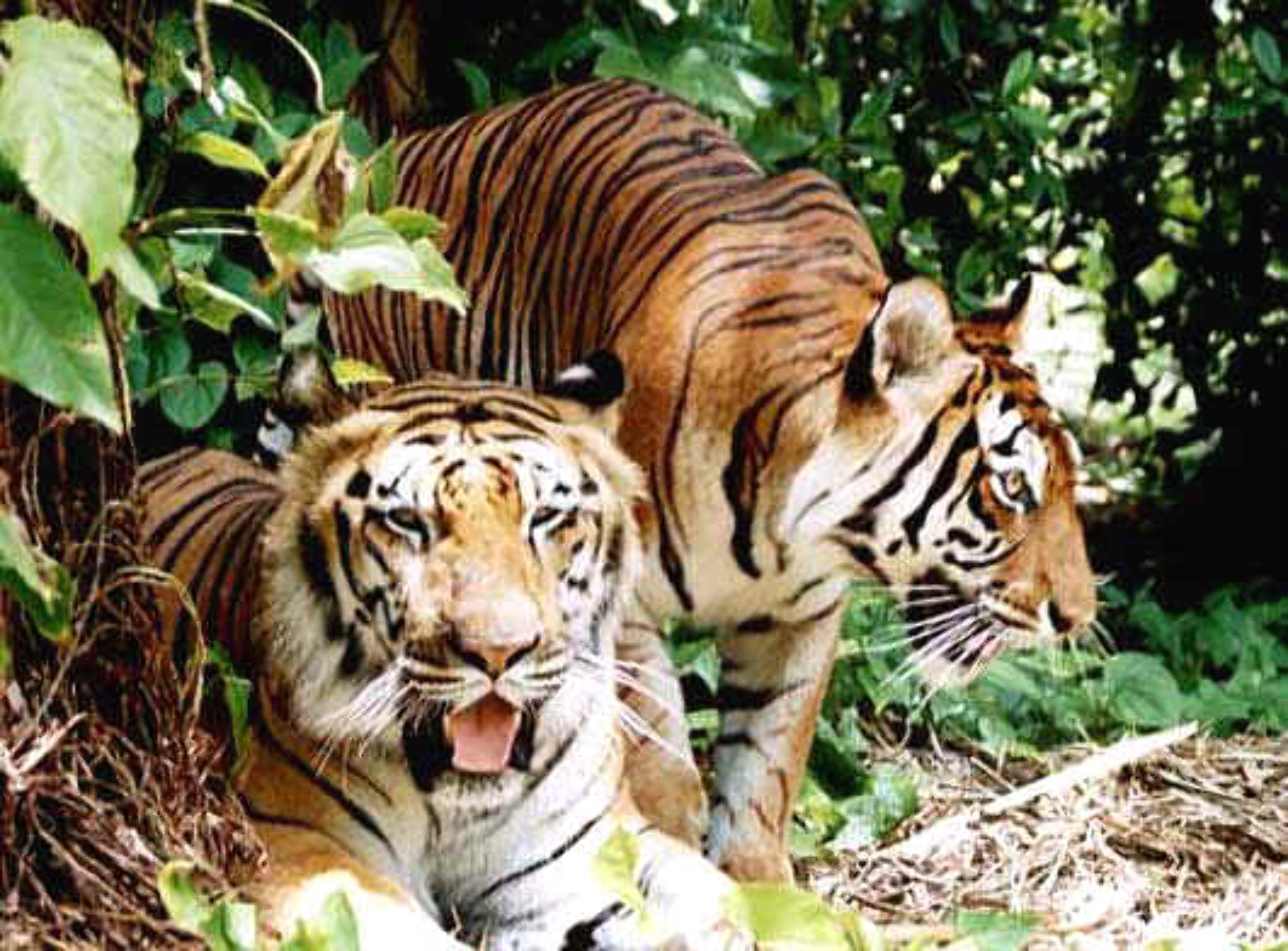 India the land of the majestic tiger and the graceful elephant, the magnificent peacock and the gigantic rhinoceros, offers natural habitat to the wild animals in its Wildlife sanctuaries and national parks is indeed, a delight for the nature lover.The wildlife sanctuaries and national parks spread across the country offer a fascinating diversity of terrain, flora and fauna. India has preserved vast tracts of forests and habitats in its 441 Wildlife Sanctuaries and 80 National Parks. So next time you travel to India, take a refuge in the quietude along with the wildlife and watch the exuberance of the bountiful nature in India

Srisailam Sanctuary, Andhra Pradesh
The largest of India's Tiger Reserves, the Nagarjunasagar Srisailam Sanctuary ( 3568 sq. km.); spreads over five districts – Nalgonda, Mahaboobnagar, Kurnool, Prakasam and Guntur in the state of Andhra Pradesh.The Nagarjunasagar-Srisailam Sanctuary was notified in 1978 and declared a Tiger Reserve in 1983. The Reserve was renamed as Rajiv Gandhi Wildlife Sanctuary in 1992.
The river Krishna flows through the sanctuary over a distance of 130 km. The multipurpose reservoirs, Srisailam and Nagarjunasagar, which are important sources of irrigation and power in the state are located in the sanctuary. The reservoirs and temples of Srisailam are a major tourist and pilgrim attraction for people from all over the country and abroad.
The terrain is rugged and winding gorges slice through the Mallamalai hills. Adjoining the reserve is the large reservoir of the Nagarjunasagar Dam on the River Krishna. The dry deciduous forests with scrub and bamboo thickets provide shelter to a range of animals from the tiger and leopard at the top of the food chain, to deer, sloth bear, hyena, jungle cat, palm civet, bonnet macaque and pangolin. In this unspoilt jungle, the tiger is truly nocturnal and is rarely seen.

Main Flora
Srisailam SantuaryAnogeissus latifolia, Cleisthanthus collinus, Terminalia species, Pterocarpus marsupium, Hardwickia binata, Boswellia serrata, Tectona grandis, Mandelia suberora, Albizzia species.

Main Fauna
Tiger, leopard, sloth bear, wild dog, pangolin, spotted deer, sambar, mouse deer, black buck, chinkara, chausingha, mugger, python, cobra, peafowl.

Best time to visit
Summer: Mid-March to mid-June
Monsoon: Mid-June to mid-November
Winter: Mid-November to February

Accommodation
Three Forest Rest Houses and 40 bed capacity dormitories are available for tourist occupation in the Tiger Reserve at Srisailam, Mannanur and Nagarjunasagar. There are connections to Srisailam from Hyderabad, Vijaywada, Guntur, Kurnool, Markapur. The distance from these towns to Srisailam ranges between 90 to 240 km.
Nearest town
Macherla (29 km)
How to get there
Rail-Hyderabad (150 km) Air-Hyderabad (150 km)
Manjira Wildlife Sanctuary
Total Area: 3568-sq-kms
Species found: Catla, Rahu, Murrel, Ech Paten, Karugu, Chidwa,Painted Storks, Herons, Coots, Teals, Cormorants, Pochards, Black and White Ibises, Spoon Bills, Open Billed Storks etc.
Manjira bird sanctuary spreads over an area of 20 sq.kms and is the abode of a number of resident and migratory birds and the marsh crocodiles.It has an Environmental Education Centre with a museum, a library, and an auditorium. All this facilitates in educating the visitors about nature conservation and maintenance of ecological balance.Boats are in operation to take the visitors around the sanctuary for bird watching. Binoculars and books on identification of birds are also available. The films of birds and animals are also shown everyday on 16-mm projector.
Invertebrates : Prawns, Mollusis and Zoo plankton.
Fishes : Catla, Rahu, Murrel, Ech Paten, Karugu, Chidwa.
Reptiles : Monitor Lizards, Fresh Water Turtles, Cobra and Marsh Crocodiles.
Manjira Wildlife SantuaryBirds : Painted Storks, Herons, Coots, Teals, Cormorants, Pochards, Black and White Ibises, Spoon Bills, Open Billed Storks etc
Extensive growth of Babul Prosopis. Plants commonly found in water are Pistia, Hydrilla, Eichornia and Vallisneria
How to Reach There (Manjira Wildlife Sanctuary)
Train to Hyderabad (150 km); Hyderabad (150 km)

Nagarjunasagar Wildlife Sanctuary
Evolved out of different needs, the town of Srisailam is divided into three zones. Srisailam or the original pilgrim town centers round the age-old temples dedicated to Lord Mallikarjuna and Goddess Bhramaramba, incarnations of Shiva and Parvati. A fairly stocked marketplace and several lodges for pilgrims lie alongside the temple quadrangle.About eight kilometers from the temple town is Sunnipenta, another ridge top where most offices and a few eating houses are located. Also located here is the office of the Project Tiger and the Field Director. The dam site on the river Krishna-the Srisailam Hydel Projects-makes up the third zone.
Nestling in the Nallamalai Hill ranges, an offshoot of the Eastern Ghats, with cliffs, gorges, ridges and plateaus, endowed with a variety of flora and fauna, the NSTR protects a large portion of the once flourishing ecological system that existed here. Without having the benefit of being an erstwhile royal game preserve, the forest in this area was always open to human visitation. Pilgrims from all over southern India carved out routes through the forest to reach Srisailam. It was in 1973 that the area was declared a sanctuary and incorporated under Project Tiger a decade later.
A little over 6 sq km in area, the Rollapadu grasslands near Srisailam are dotted with dry, thorny bushes and is home of about a hundred blackbucks. From a distance, one can observe families of blackbucks out on their breakfast trail, a couple of bustards gazing at the horizon while taking a tentive foot forward. At present, day visits to Rollapadu Sanctuary is permitted.

Places Nearby Nagarjunasagar Wildlife Sanctuary:
Mannanur is a pre-existing tribal hamlet with a comfortably furnished camp bungalow. Next to the bungalow are a crocodile pond and an environment education center. From Mannanur, one can explore the western corner of the tiger reserve. The forest area here is thickly set with miscellaneous timber species with local names like Nallamadi (Terminalia tomentosa), Chirumanu (Anogeissus latifolia), etc., as well as stretches of teak forest. One can also spot spotted deers, sambars, and nilgais here.Nagarjunasagar is the place where excavations have unearthed many historical monuments belonging to 1st and 2nd century AD. The place is also home to a large dam built on the river Krishna.