Powered By
C. L. Ramakrishna
www.astrojyotishji.com
Email: geetharam_2002@rediffmail.com
Email: geeta@astroyogi.com

Why compatibility?
Capable of existing or living together in harmony is called as Compatibility. For love or marriage, in either case, compatibility only decides their fate. A good love or marriage should grow and develop gradually from understanding and not impulse, from true loyalty and not just sheer indulgence. In our country, Marriage has been considered as a sacrament and comprehends the equality of the partner in respect of right dharma, financial position, sex relations and final emancipation, at the same time love becomes the leisure pursuit and it if often changed by the people. This type of people should know one thing that always true love will get succeed and not the appearance or passion. Only if the passion attracts them, and they are not compatible with each other, they cannot continue to be together, if they are together also, in future that may get stained any time. So before entering into a life time commitment like love and marriage, we should know the compatibility that can be done only through Practical Astrology.

Astrological compatibility is the branch of astrology that studies relationships by comparing natal horoscopes. Relationships between planets, signs, and houses (sectors of the chart) are described in words and or often rated in numbers to show to what degree, how, and in what ways one person is compatible or incompatible with another. The assessment is based on the patterns and distributions of signs or planets in the respective and combined charts.

Horoscope matching is an art and it is the highest responsibility of an astrologer. The fundamental concept of matching horoscopes varies from astrologer to astrologer. But a real matching should be based on the horoscope or natal chart and should reflects the bride and groom nature, mental physical tendencies, nature, conduct, qualities, future etc., It should not be only by star matching, and that is more common in India now, and it shows the failure of compatibility in many cases.

In addition, to horoscope matching a host of other factors such as longevity of the individuals, character (sexual), widowhood, poverty, progeny, body status, radical strengths and indications, planetary nature and afflictions, currency of major and minor periods, Marakas (death inflicting planets), placement of Mars in their nativity (Mangal Dosha), time of query, propitiations, auspicious time for marriage etc. should be examined to arrive at a suitable union of the couple.
Generally Marriage or love is a spinning spot in every human being. For some people, the change is good and it creates lot of happiness, and for some people it is becoming a curse. For few people, the good or evil results may extend only for a short time and those will be corrected by them with mutual understanding.
Astrologically, the seventh lord refers to marriage; wife or husband; Married life partner; Love; Lover; co-relationship with mutual understanding; sexual relationship progeny matters; temporary or permanent separation or divorce; Urinary organs; Sexual diseases; Difference of Opinions; Wife or husband's relations etc., To make a clear analysis about the compatibility all the above factors should be considered. Astrologically we can analyze the seventh lord, the strength and weakness of the seventh house, malefic planets or benefic planets in the seventh house, any marriage or mangal dosha, strength of Venus and Mars in mutual affection, whether arranged by parent or independent marriage etc.,
Astrologically we can predict the possibility of love affair or love marriage or compatibility whether the love affair will be successful, whether it is true love or only a passion , one side love or mutually stable love etc., This should be predicted by lagna lord's and seventh lord's conjunction with Rahu-Kethu axis or Moon's conjunction with malefic planets or Venus and Mars conjunction with worst malefic planets etc., We can also predict that whether that individual is connected with illegal or extra marital relationship or bad conduct and whether there is a loss of partner. Is there any temporary married life for some time and if they wish to get mutual separation regarding untold reasons, such cases can be predicted.
If Mars in 2nd, 4th, 7th, 8th or 12th houses, If he owns a best benefic planet then he will not do any harm or mangal dosha. Mangal dosha or Kalathra dosha can be judged astrologically only by the strength and weakness of Mars and seventh lord and also by analyzing the future upcoming dasa periods and longevity period of both the bride and groom.
In my humble 3 decades of experience, the compatibility will not be successful if horoscope has most malefic impact. So it will be good to avoid that kind of marriage in such cases. The second marriage of widower and divorcee should be predicted astrologically by considering their individual future upcoming dasa periods whether it is fortunate or unfortunate.
Based on the above aspects, mathematical computation is performed to find a match. making compatibility. It is felt essential to match the horoscopes before further marriage negotiations are done. The above system is in practice for the last two millennia.

Let me share my compatibility analysis through the following case studies.

Love Compatibility analysis of Mr. X and Ms. Y:

Male born on 27th Oct, 1981 at 22.37 at 13N 05 Latitude, 80E 17 Longitude, Gemini Lagna, Swathy star with Rahu period balance 14 years, 6 month and 22 days.

Female born on 19th December, 1983 at 14.49 IST at 13N05 Latitude, 80E17 Longitude, Aries Lagna, Mrigasira Star with Mars period balance 6 years, 5 months and 29 days.

Questions from Male's mother:

My son and one female have fallen in love with each other and are they compatible for love and marriage?

Love compatibility analysis according to astro-facts: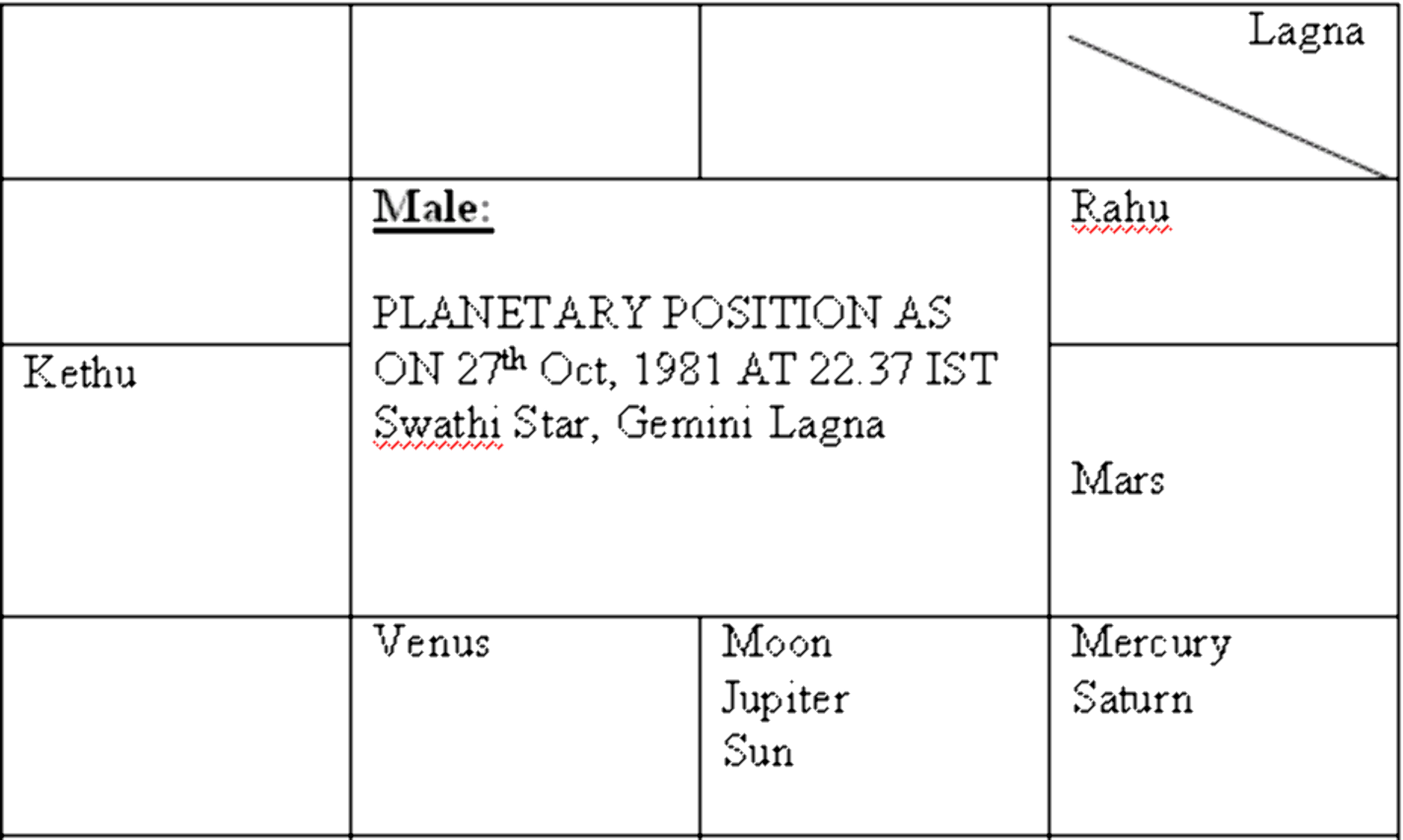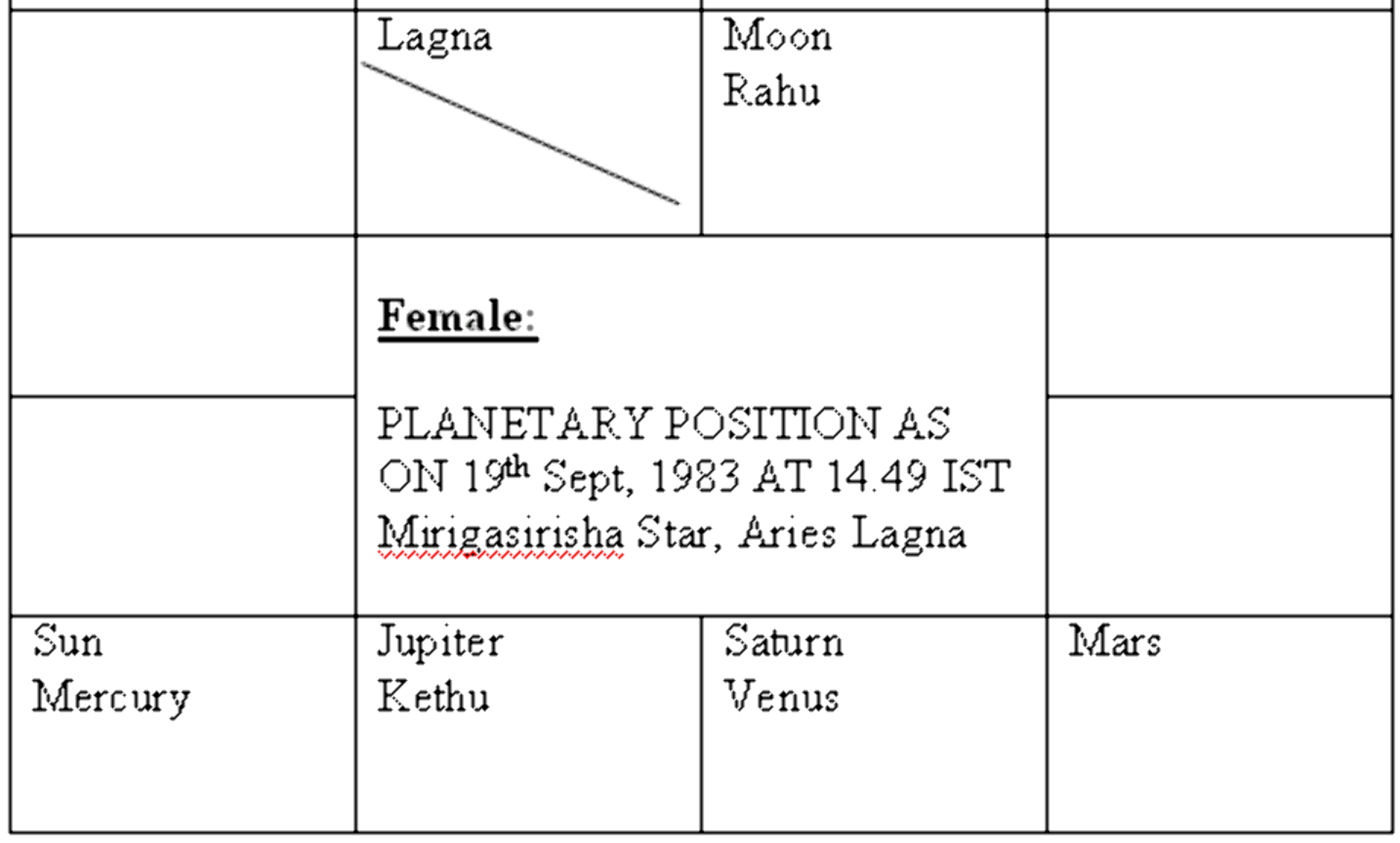 Favourable Compatibility Parameters:


Male's Gemini Lagna is adjustable and flexible to Female's Aries independent lagna.

Both are having very good lucky job careers, future status career and peaceful domestic life.



Both are having Rahu in the second house and Kethu in the eighth house to take individual decision regarding their future domestic life.

Both are having much courage and liberty because boy has third Mars and Girl has sixth Mars.

Both are having Guru-Chandra or Gajakesari Yoga to overtake hurdles and bad lucks in their path.



Male's seventh (Marriage-wife-domestic life) lord Jupiter is in the fifth intellectual house with Moon and Sun.

The female has also has second house Moon with Rahu aspected by Jupiter and Kethu.

Generally Moon with Rahu aspected by benefic planet and connectivity between second and seventh lords or second houses all are forcing the boy and girl to take individual decision in the matter of their future married life with love and affection.



In this matter, the female has much anxiety and much affection on this male because of her seventh house occupied planets, Karma tenth lord exalted Saturn with seventh lord Venus in a strong powerful position.



Both are inter-caste but same religion.

They also have any other minus points like Mangal dosha, Ayush dosha, Puthra dosha and domestic life dosha, divorce or separation etc., So if both are having the same doshas that will get neutralized and they can marry each other.

Both are having true love and affection on each other and mutual understanding tendency because of Jupiter and Moon.



Both are having favourable marriage timings.

The male is passing Jupiter-Moon period from 19th September 2007 till 19th January 2009.

The female is passing Jupiter – Jupiter period from coming 15th June 2008 till 3rd Aug, 2010.
Finally so all these matters of plus points are denoting their peaceful, prosperous happy married long life. So according to my wise suggestion and recommendation for their marriage proposal, they married soon on Sept, 2008 in Girl's Jupiter-Jupiter period with permission and agreeable mutual co-operation of both the parents, and they got blessed with a baby boy now.

Matrimonial Compatibility with Horoscopes not with only Star matching:

Male born on 22nd Sept, 1969 at 16.46 IST at Tiruchi, India N. Latitude 10.50- E. Longitude 78.42; Aquarius Lagna with Thiruvonam Star (Capricorn Rasi)- Moon's Balance 1-7-19 (Y.M.D)

Female born on 23rd November 1974 at 10.15 IST at Madurai-N.Latitude 9.58, E. Longitude 78.10, Capricorn Lagna with Pooratathy Star (Aquarius Rasi) with Jupiter dasa balance 15Yrs, 1month and 3 days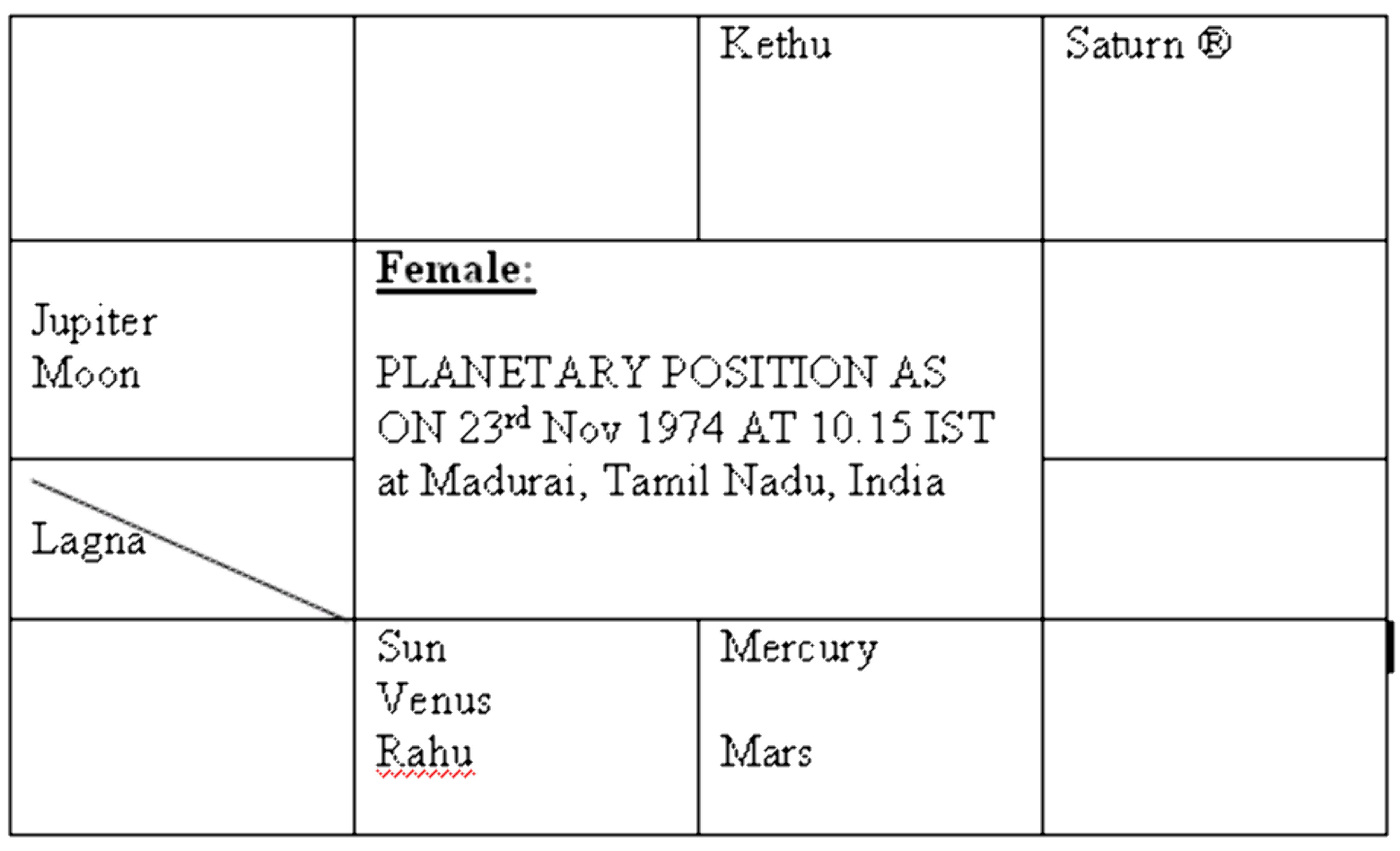 Favourable Compatibility Parameters:


According to Male's Horoscope his seventh lord in the eighth with eighth lord Mercury and eleventh lord Jupiter denotes his becoming wife from the circle of family friends and relatives.
The female's horoscope also denotes her seventh lord moon with Jupiter in the second and from her, Moon also becomes Sun as Seventh lord as Male's. These combination denotes their families mutual introduction from the friend's and relative's circle

Both are having their Seventh Lord with Jupiter.

This situation is the most powerful point in the matter of domestic life matching according to their fact of fate. .

So both are capable of continuing their married life without tension and problem.



Both are having indicator for married life lord Venus's joining with Rahu and Kethu axis- Here Venus becomes pure benefic for these two lagnas, so they can able to lead a luxurious domestic life.



Both are having same Saturn as their Lagna lord, good in the matter of physical and mental tendencies.



The male has Jupiter's Trimsamsa Lagna.

The female has Venus's Trimsamsa Lagna, So both are having good conduct.



Both are having same Saturn's Lagna and Moon Rasi.

So their mutual mental tendencies and feelings are same.



Both are having good lengthern longevity according to their powerful 8th lord's dispositions.



Above all both are having good lucky future dasa periods till their end.



Both are not having any Mangal or Mars dosha and Kalathra or domestic life dosha.



Male's Moon rasi is aspected by Jupiter and Female's Moon rasi is joined with Jupiter, So both are beneficial.



Both are having no Puthra Dosha or Issues problem.

Both are having Poorva Punya Strength (the benefits of good deeds in the previous birth) and God's blessings because their lords Venus and Mercury both in powerful situations.



Their Lagna lord Saturn, Moon Rasi Lord Saturn, Poorvapunya lords Venus and Mercury, God's faith Dharma lords Venus and Mercury also their Karma Lords Mars and Venus all are in Strength situations.
Finally so all these matters of plus points are denoting their peaceful, prosperous happy married long life cent percent according to their fact of fate from their horoscopes not according to their stars. Stars matching could not give these accurate clear points in Matrimonial compatibility and will lead to false decisions and finally the couple has to face their consequences, so get the detailed compatibility report by log on to www.astrojyotishji.com and make your life happy.

Powered By
C. L. Ramakrishna
www.astrojyotishji.com
Email: geetharam_2002@rediffmail.com
Email: geeta@astroyogi.com