Powered By
C. L. Ramakrishna
www.astrojyotishji.com
Email: geetharam_2002@rediffmail.com
Email: geeta@astroyogi.com

Are you newly married? Worry about new responsibilities and future?

Marriage plays a very important part in this strong web of relationships of giving support and protection. A good marriage should grow and develop gradually from understanding and not impulse, from true loyalty and not just sheer indulgence. In our country, Marriage has been considered as a sacrament and comprehends the equality of the partner in respect of right dharma, financial position, sex relations and final emancipation. Wherever you may be engaged, newlywed, in a mature marriage -your relationship can benefit from a little expert advice. We're here to help make married life easier, more meaningful and enjoyable.

When a couple becomes engaged, life becomes a blur. Whether the engagement spans a few weeks or more than a year, the period between singleness and oneness fills quickly with showers, parties, wedding preparation, and home shopping. Family and friends all want to help with anything you'll let them be involved with. And every one of them has loving advice.

A newly married couple has lots and lots of questions on their way, including Career, compatibility, Issues, Finance, Intimacy, Relationship, Understanding, Life security and more., To guide those couple, and to make them understand about their path in their rest of their entire married life, a better clear guidance is required and that can be done only a Practical Astrology Life prediction. With this prediction, they can take a clear conclusion about their life and they can plan their life accordingly.

To make you understand better, let me share one case study regarding life time prediction. They are a newly married couple and had lots of queries regarding their future. Let me clarify those for your ref.

Case-Study:

Male born on 22nd Sept, 1969 at 16.46 IST at 10N 49 Latitude, 78 E 41 Longitude in Aquarius lagna, shravana star with Moon dasa period balance 1 year-10months-9 days.

Female born on 23rd Nov, 1974 at 10.15 IST at 9 N 56 Latitude, 78 E 07 Longitude, Capricorn Lagna- Purvabhadra Star with Jupiter dasa period balance – 15 Years, 1 Month, 27 days.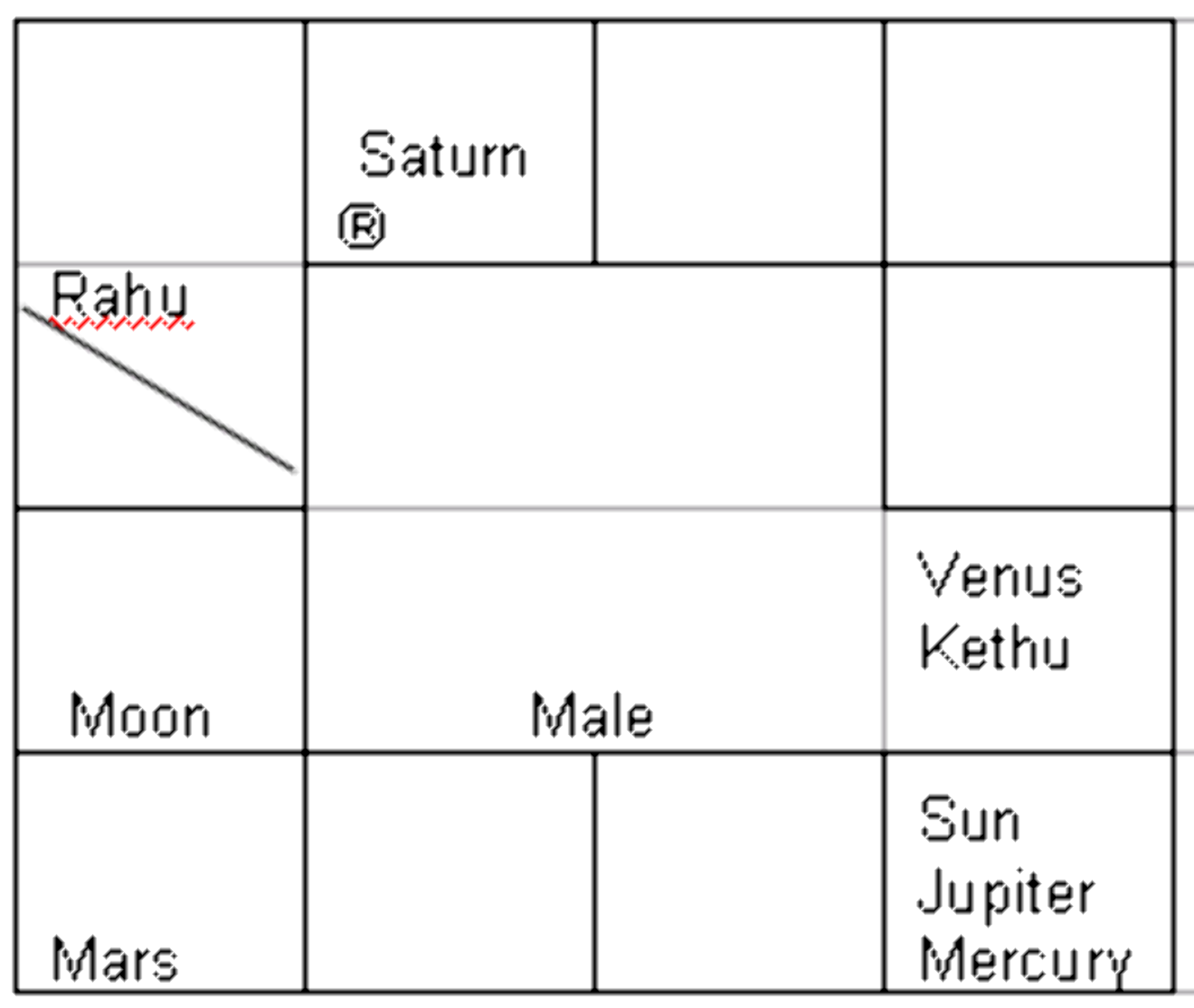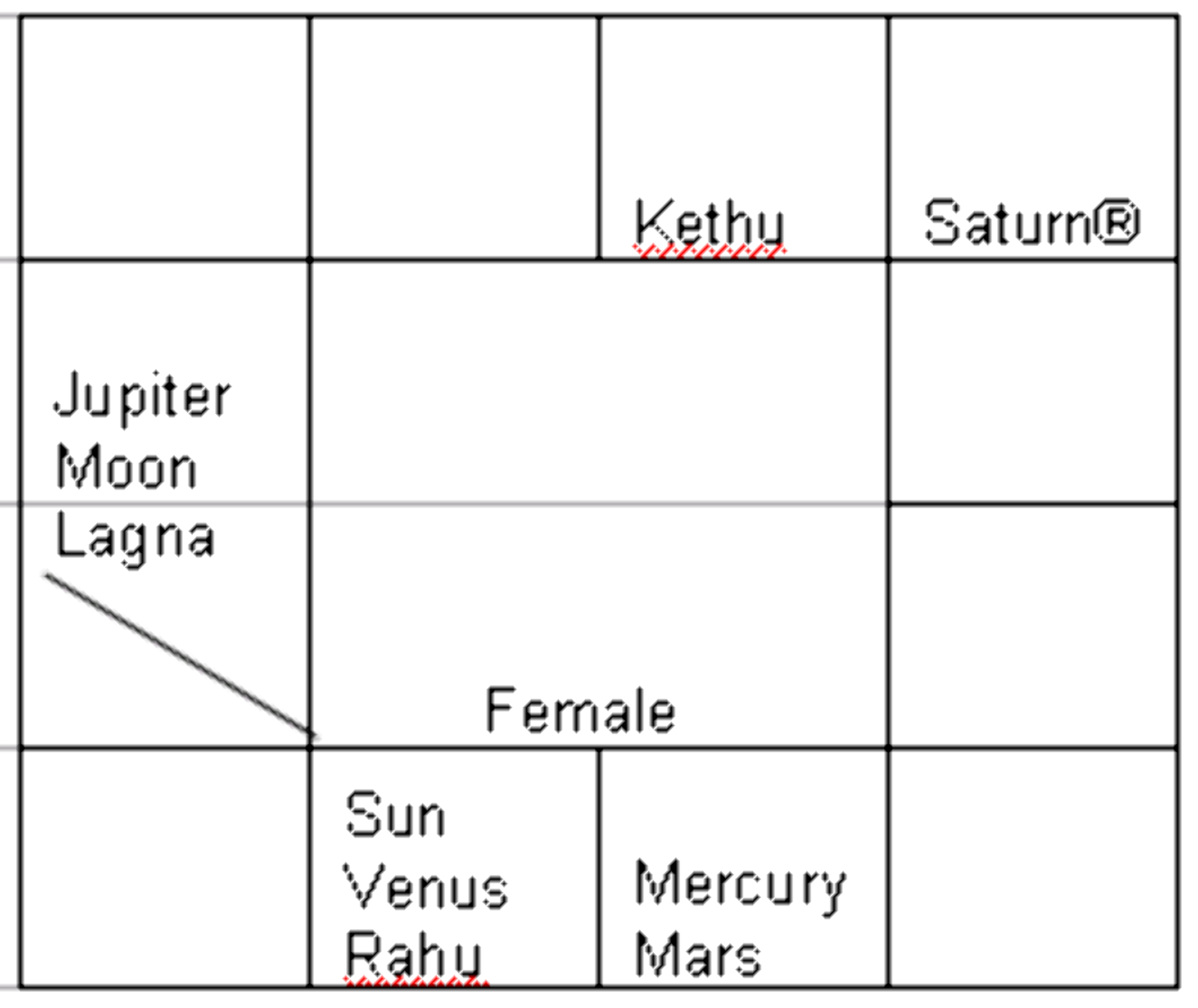 This couple asked the following questions on March 1999:
We got married on Feb, 1999 and we want to ask the following questions.


Will we have compatibility according to horoscopes and mental tendencies?

Tell me about our domestic life (married life)?

Will we have issues? When? How many?

Our finance and job or incoming sources

Our residential or self employment problems

Relationship with friends, neighbours and relatives

Extravagance and further improvements in career?

Can we able to buy any property in future? What about buying a car?

Can we live long? What is our life span?

Future prediction for both of us.
Answers:


Mainly both of them are having Saturn's lagnas, Aquarius and Capricorn signs.

The Moon indicator of mind and mental tendencies is aspected by Jupiter in male's horoscope and is conjoined with Jupiter in female's horoscope.

So both are not having any ego problems, inferiority complex nature, fear, tension, anger etc., but having truthful mutual affection, love till end of your life.

Luckily both are having Saturn's moon signs, male has Capricorn moon sign and female has Aquarius moon sign.

So in any circumstances they will adjust each other life long without any future problems, so both are well compatible.

For male, he is having tenth karma lord Mars in the eleventh and fourth and ninth Dharma lord Venus in the seventh always will give him a modern lifestyle till his living period.

For female, she has Jupiter in the second and the fourth and eleventh lord Mars in the tenth with Dharma ninth lord Mercury.

So both will have a peaceful and good status oriented life style.

So both are having same pattern of life style.



For male, his birth of children lord, fifth house Mercury is in his own Virgo sign, in exaltation strength, with Jupiter and Sun.

For female her seventh house of pregnancy parts lord Moon is in the second with Jupiter.

So she has no pregnancy problem.

Therefore the couple will have two children and one abortion, totally three pregnancies.

All these pregnancies will be possible from March 1999 up to Jupiter Venus sub-period within 10th February, 2007.



For male, finance-second house lord and income profit-eleventh house lord both become Jupiter who is in the eighth house of hard work.

So his huge earnings will be earned only by hard work, sincerity and connected with business related friends.

Three major planets Mercury, Sun and Jupiter in Virgo sign will give him television and computer hardware servicing and assembling line.

For female tenth Mercury and Mars will give the same income career.



Because both are having their fourth lords in beneficial amass they are not have any residential problems and a small misunderstanding between both parents can happen but it may be bearable and adjustable by them.

The tenth house of self employment lord Venus in the seventh travel house, will give often or daily long travels in vehicle.

So be careful in driving the vehicle in traffic.



Because of disposition of fifth lord Mercury, though he is in exaltation, his joining with Sun and Jupiter in the eighth house will give both physical as well as mental sufferings and problems that include tight finance.

So planned and practical schedule will be must while dealing financial problems.

Both are having strength fourth lords Venus and Mars and because of their positional strength, both cannot get any problem in relationship with neighbours, friends and relatives.



Both are not having any unnecessary or extravagance expenses except medical expenditures only for family members.

Further improvement will be possible only after his Saturn-Saturn sub-period from 04th Aug, 2015.

Saturn-Mercury period will give them good change in their improvements of career and self employment.

Saturn lagna lord's neechabhanga raja yoga (Cancellation of debilitation because of its retrogression) and Mercury's exaltation, eighth lord's exaltation in his own house always best in giving good improvements of all matters including domestic life career and income career.



Both are having vehicles luck and property luck after 4th Aug, 2015.

For property wife's good luck will be more than husband.

Good luck only starts from Saturn-mercury sub period from 4th Aug, 2015.

The may be involved in an accident – injury on his head while driving a two wheeler.

So be careful and always wear the helmet while driving the two wheeler.

You can buy a care after Aug, 2015.

Eighth exalted Mercury with Jupiter and Sun in Saturn period will give him much earnings in his self employment career; wealth and fame; charitable works; gain of wealth; prosperity to children and benefits and profits in business career.

Husband's Mercury period till 1st Aug, 2048 up to his age of 79 will give him and his entire family including wife and children most beneficial results even at their old age.

Husband will have heart problems in future.



Husband will have 79 years longevity till his mercury period and wife will have 84 years longevity till her Moon-Moon period.



Future predictions for husband:
Now he is passing Jupiter period up to 01st Aug, 2012. This Jupiter will give him Unsatisfactory income than he expected. Expenditure will be in high levels and income will be in low level. But he can manage all problems till the starting of Saturn- Mercury period 4th Aug, 2015. Saturn period-19 years upto his age of 62, till 01stAug, 2031 will give him much courage, much travel, good income, fulfillment of duties for family members particularly children's higher education and property.


Then his Mercury period for 17 years up to the age of 79 till 01st Aug 2048 will give him most beneficial results in his career, health, status, property, support from all sides, good and beneficial results for children, favour of government and good people, royal favour, marriage ceremonies in house, increase of wealth and health, religiousness, charitable deeds and unexpected gains in Mercury period till his age of 79.



Future predictions for wife:
The wife is passing lagna and Moon rasi lord Saturn's 19 years period till her age of 34 up to 20th January, 2009.

Saturn is in the sixth house of diseases and oppositions.

So even though Saturn is her lagna lord that will give only neutral results throughout Saturn period.

This Saturn period already gave her marriage, domestic life, royal experiences, relatives and friends after that good beneficiary result like happy tours, good children, and best care for all family members, hard work, poor health and good courage to struggle and defeat all problems.




Then her Mercury period for 17 years up to the age of 51 will give most good and beneficial results till 20th January, 2026 as most happy period of life; favours from all well wishers; good and auspicious results for children; good health; rising in her image and name, acquisition of property; royal favour; most lucky than all family members; participation in much good ceremonies and celebrations, happy tours, good credit etc.,


Then her Kethu period for 7 years upto the age of 58 till 20th January 2033, Kethu is in the fifth house of poorvapunya will give her visits to sacred shrines and dips in holy waters, acquisition of wealth; afflicted health condition; participation in funeral ceremonies; compunction and in the end appeasing sins by resort to foul stratagems etc.,


Then her Venus period for 20 years up to the age of 78 till 20th January 2053, will give her most beneficial results in royal favour, wealth, health, name and fame, bad for husband's health, critical health problems and treatments to her, finally good and bad results in the end of Venus period, because, Venus is in the eleventh Scorpio rasi by conjoining with malefic Sun and Rahu.
From the above Case study you can easily find out how this Practical Astrology Life Prediction is useful in planning the future for newly married couple. So log on to www.astrojyotishji.com and plan your future accordingly.
Powered By
C. L. Ramakrishna
www.astrojyotishji.com
Email: geetharam_2002@rediffmail.com
Email: geeta@astroyogi.com