Summer passed, and soon the fall made its way across the spectrum of seasons.
Thoughts of a wonderful summer gone by was a memory that would remain with him, never covered in fog, but always as bright as the light of a summer's day.
He could still see her footprints on the sands, in his mind's eye, her laughter still echoed and her voice. Would he see her again? He never knew, but then again he would love to see her again and relive the brief summer she spent. Would she want to see him again? That was a question for which he had no answer.
She has a life to live and she had her commitments and it would be selfish for him to want her to be back. Then, again, we are only human and given to selfish needs sometimes.
He saw her the first time as he walked down his regular path at the beach. He would come there every summer, just to soak in the beauty of the landscape and the ocean. He had no family to speak of so nothing tied him anywhere. In a way a blessing, his friends would tell him it was time for him to settle, but then he never wanted to impose on anyone.
She was standing there staring in the distant horizon not moving, just seeming to enjoy the breeze and the waves. It was a beautiful silhouette of her. As he passed by her, he could not help but ask her "It is beautiful is it not?" She did not respond, but just gazed straight ahead. He shrugged his shoulder's and walked on, thinking to himself "She must think I am one of those who hits on a single woman.".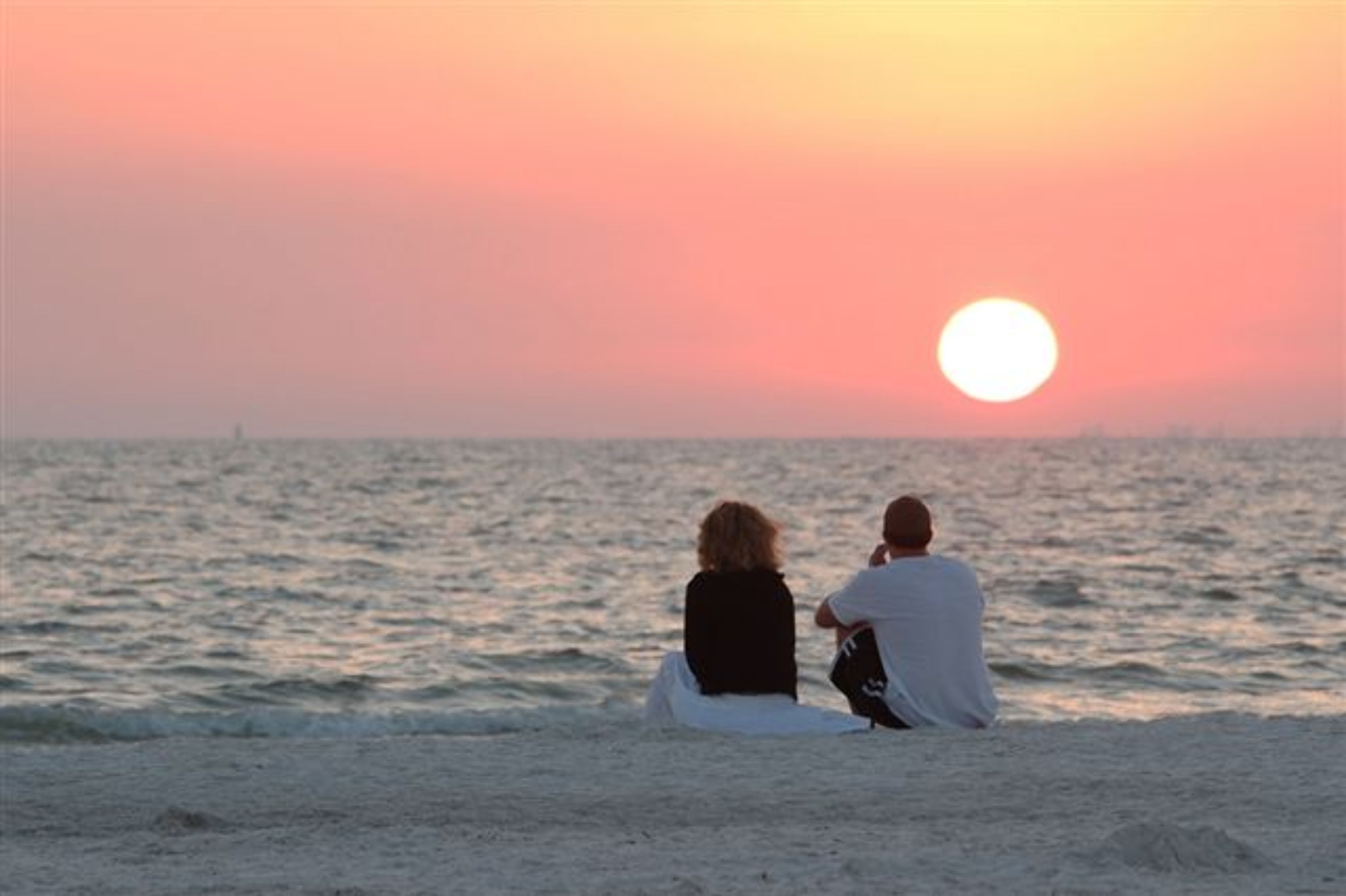 Then her voice floated to him from behind "It is really
beautiful, why don't you pause and drink in that beauty?" Her voice had a lilting softness and he
stopped.
Then turned and looked at the sea. "Yes, It is really beautiful, and I see it every day as I
walk".
"You can come closer to me and stand, I don't bite", she
said and laughed – like her voice a laughter that simply wrapped him. "If you stand far away and talk to me,
your voice will be carried by the wind somewhere and I would never come to hear
of it, so it is better you were closer", she said. He could not help but laugh. She too joined him and they both laughed.
"Beautiful", he said.
"What?",
"Who?"she asked.
"The ocean", he replied
She did not say anything. They both stood
by the shore and gazed at the ocean.
"Are you from here?", she asked.
"No, I am about
300 miles from home", he said.
"Does 300 miles have a name?" she asked, again her laughter
just lit up.
"Los Angeles", he said, and added "And You"
"Can't you take a guess?", it should not be too hard", she
replied.
"My home country"?
he asked
"But ofcourse"?
"you should not even ask" she said again wrapping him in her laughter.
"No but you could be from the neighboring country or from
anywhere, that is why I kind of asked?, But then how did you know where I was
from when I said Home Country"? He asked with a puzzled look.
" I just know", she said simply, still her gaze focused on
the ocean.
"I am Nirmal", he said. She did not say anything. Just nodded her head and kept looking ahead. He stood there for some more time,
enjoying the quiet moment.
Then he said, "I have to go and take care of some errands".
"Okay"she said and as he walked the familiar voice came
floating through the air.
"Nirmala" and he just stopped – looked at her as if she was
teasing him and she laughed and said "What? Cannot a person have a name like
yours with an extra letter of the alphabet at the end".
"Goodnight", he said and moved on. He could sense her eyes on him, but did not turn back.
As he walked towards the street from the beach, he said
"Darn it, I never asked where is staying or what is she here for or
anything. Maybe if she is there
tomorrow, I will ask her"
He did not see her
the next day or the day after.

Walking down the street from his room at the Inn, again he
heard her voice floating from behind "Where goes you the one without the A at
the end of his name?"
He laughed and stopped and turned and there she was, her
signature laughter already wrapping him.
" No where in particular", he said.
"Then why don't you give this girl far away from home some
company that she is longing for?" she asked.
"But ofcourse", he said. "Any where special?"
"How can you ask a person who has never been here that question?". You should know better, you I know come
here pretty often don't you?" she
answered with a question.
"How in the world did you know I come here often?" he asked
and then said "Forget it", "Not going to ask you how"?
"By the way", she said rather offhandedly "Don't you dare
laugh at my nose, some folks have given it the name of an Indian snack". He looked quizzically at her and said
"all I see is a lovely nose with a lovely litte pin, which complements you so
well, and I love the way it glints, besides I have a weakness for a lady with a
nose ring". She just smile and did not respond.
He then said "There is a lighthouse a couple of miles away
up the rise, how about a walk there?"
"Oh my how wonderful", she said. "You have company"she said. As they started walking she asked, "Are we friends or
strangers?". "Friends", he replied
"Why?" he asked. "Well Nirmal you
walk as if you are a typical last
century Indian husband, you walking in the front and me following you"?.
"Shucks", he said, " I am sorry, not used to walking much
with anyone so just took off of my own", he said and slowed down and they
walked side by side. She kept up a
constant conversation, and filling the air with her laughter which he loved
just as much her voice. She never
seemed to be short of any topic and it was such a wonderful fill in for the
void that he had.
He asked her what made her come here from so far away.
"I work in the tourism industry back in India and I
was asked by a documentary film maker to scout some beautiful spots over seas
for promoting tourism. Plus it is
a wonderful vacation form me - away from every one – just me, myself.
"What about you?" she asked. He said that he worked for an advertising company as a
copywriter and he would come here every year, cause he was so much in love with
the place. "
They turned a corner up the cliff and she caught her breath
and let out a squeal of joy. "This
is simply incredible, so beautiful," she said as she saw the lighthouse and the view of the ocean from
there.
He never ceased to be amazed at the view from here.
" You have to come at night here", it is a sight you will
never remove from your mind he told her.

He told himself that
"she looks like a little girl on a visit to the candy shop for the first
time of her life" He was simply
engulfed in her happiness and joy.
"Nirmal, please, can we come here tonight", she said.
I have some
work that I have to complete, I will finish that and try to get out as soon as
I can from my room in the evening and we will comes here. "Wonderful she said".
That evening he went to the place she stayed and she was
waiting for him. "You better bring
a jacket with you ". "No , Nirmal",
I am perfectly fine she said. "you
sure"?, he asked. "But Ofcourse",
she replied.
He told her as they reached the curve in the hill "Close
your eyes". She did and he guided
her holding her elbow and then he whispered to her "Nirmala". She opened her eyes and gasped. It was as if heaven came down to
earth. The sky was filled with
stars, moonlight reflecting of the waters of the sea, and the dark silhouette
of the light house and she echoed the words "if there is a paradise on earth……".
They stood for a long time lost in their thoughts, gazing at
the spectacle – and he did not want to say anything worried that the moment he
opened his mouth the spell would break.
He slowly walked away a little distance and let her drink in
the beauty of the night and was lost in his own thoughts. "Why did you walk away from me?" her
question woke him up from his thoughts.
"I just wanted you to be one with the beauty of the moment". "Is it wrong for you to stand next to
me ", she asked. "No I just wanted
you to have that moment to yourself". "Did not mean to offend you ". She just stared at the sky.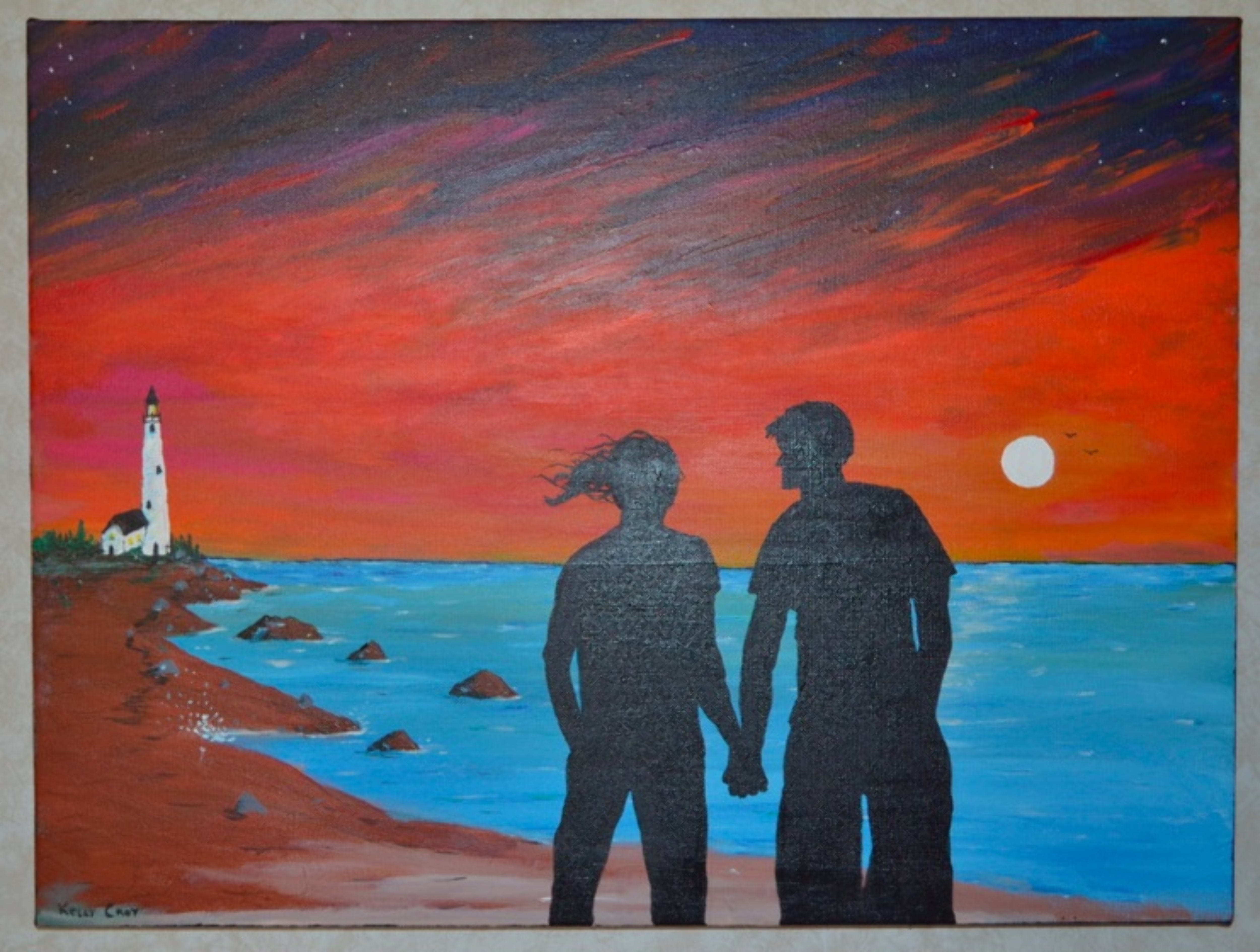 He noticed that she was shivering a little in the night wind and he
removed his jacket and put it around her. She walked quietly by his side.
"Walk with me on the beach" she said and they walked the
empty beach, under the canopy of the stars and lulled by the soft sounds of the
surf. It was such a wonderful
moment. They then stopped and
looked out into the sea, they had
taken there footwear off and they enjoyed the cold water caressing their
feet. She slowly put her arm
through his and just stood there.
He felt a closeness to her that he had never felt towards anyone.
"And now, will the gentleman take this lady for dinner", she
said and then broke the spell with her laughter, he found so endearing.
They walked to a small restaurant by the beach and enjoyed a
course of steak and fresh catch of the sea and washed it down with some
wonderful wine. She as always
carried on the conversation and he just was wrapped in her voice. Dinner was over and she was a bit
tipsy.
"Now will the gentleman find a place for the lady to dance?"
she asked. "I know I am a bit
tipsy but I can dance a tune or two", she said.
There was a dance studio near where she lived and they
played some soft music. He used to
go there, but never danced, just sat enjoyed a wine and spent time chatting
with the bar tender and the DJ.
As they walked in
soft beautiful music washed over them, she smiled and as he stood there
she asked"Are you not going to ask the lady for a dance?".
"Me?", he asked?
"yes you , you idiot Nirmal, who do you think I will dance with? The DJ?". Mind you, don't step on my foot though" she said
They danced for quite some time and then had a little bit
more wine – it was heady.
It was a wonderful evening and she said, "Nirmal, I think I
better go back to my room or I will be drunk out of my mind, and she laughed.
"But before that let us take one last walk down the beach?"
"One last walk?"he asked.
"Yes dear. I
have to leave tomorrow afternoon.
I got a call earlier this evening that I have to return since they need
me at home base urgently and I did not want to tell you that earlier and spoil
the evening"
It was like a jolt for him. The few days he had known her it was wonderful. It was full of laughter and
smiles. He however, did not
display his emotion. "What you are sad?" she asked. "No, No" he lied.
"I will miss the laughter" he said "And", she asked.
"Your voice", he said "And", she asked again " and before he
could reply –DJ announced that it was closing time and he would play the last
song for the night.
"One more dance", he asked her. "Sure" she said as "long as it it not the DJ" and they
laughed.
He walked her to her hotel and said he would walk her to her
room. She said that she was fine and could go by
herself and he said no way, she was a bit tipsy and needed some assistance,
said if he did not let her go by herself then she would not go to her toom.
"I will tie you up and carry you to your room and put you in
bed to make sure you are safe and sound asleep", he told her.
"Ha, ha ha,", she laughed. That would never work. "I will tie you up"in my room and go
to your room and sleep".
"I have hidden the key
and you will never find it", so what will you do, he asked her. "Well I know what to do", she said.
"What will you do",
he asked? "Throw me down
the window?",
"nope", she said
"Throw me in the corridor"
"nope", she said "one more chance"
"Throw me on the floor"
"all chances over", she said.
"I t will remain a suspense", and then she said good night
and gave him a hug and walked inside her hotel.
He stood looking at her as she walked into the hotel and disappeared from view.
He smiled, shook his head, and walked to his inn.
He woke up to a knocking on his door. He looked at the clock and said"Oh my
god! I over slept". He rushed and
opened the door rubbing his sleep from his eyes. There stood the hotel boy who said "Sir, a lady left this
package for you".
"Thank you " he said and closed the door, rushed to the bed
and opened the package.
There was a little box and he opened it and there was a
beautiful silver bracelet with a little banyan leaf. There was a note along with the bracelet in the box.
"Dear Nirmal – Words cannot say how much it meant to me the
moments we spent. It will always
be in my memory. I hope you liked
the little gift I left for you.
The banyan leaf is something I cherish, cause the one I love is always
depicted on a banyan leaf. His name
is Kannan". I know it is a small
gift, it cannot compensate for he wonderful gift you gave me of your company"
My flight was early in the morning and not in the afternoon.
I did not want to wake you up to say good bye, besides I don't believe in
goodbyes. So you still have not
figured out what I said – it will always be a suspense – ha ha ha"
Love and Hugs
share this