Kolkata, 16th Sept, 2012: On Friday, the Kolkata High Court heard a public interest litigation filed by
Doctors For You (DFY)
against the West Bengal government for failing to ban gutka, pan masala, etc. as mandated by Regulation 2.3.4 of the Food Safety and Standards (Prohibition and Restrictions on Sales) Regulations, 2011. The High Court issued Notice and direct the government to file its say in the matter within two weeks. The hearing is scheduled on 28.09.2012. Advocate Varun Chopra appeared on behalf of DFY.
The PIL seeks directions to the West Bengal government to act against the manufacturers, importers and distributors of addictive tobacco products. Despite having scientific information that such products cause cancer, the state government has so far failed in its constitutional duty to protect the health of the general public, the PIL states. "The Respondents have failed to take appropriate action towards banning gutkha and other forms of chewing tobacco products such as zarda, pan masala, gul, bajjar, etc. which are toxic and highly addictive forms of chewing tobacco as mandated by the law vide Regulation 2.3.4 of the Food Safety and Standards (Prohibition and Restrictions on Sales) Regulations, 2011 made under the Food Safety and Standards Act, 200," the PIL states. It adds, "The Petitioner is aggrieved by the fact that despite having known the catastrophic effects of the tobacco and its associated products is known to cause oral cancer and cancer of the oesophagus, pharynx, larynx, stomach, and pancreas, the Respondents, have not taken any step towards banning these toxic tobacco products threatening the health and welfare of the general public."
Here is a small sample what the state's negligence does to its citizens. Ramesh Chowdhury is a factory worker in Kolkata, who until recently earned daily-wages of about Rs 80 per day. For this 65-year-old, chewing khaini (tobacco plus lime) and smoking bidis was a lifelong habit. Last year, Ramesh started coughing up blood, and a biopsy revealed cancer. Reluctant to incur major costs in their old age, Ramesh and his wife Sabita went into denial, and resorted to homeopathic treatment. But last month, the aged couple was forced to rush to Mumbai's Tata Memorial hospital, with Ramesh gasping for breath and on the verge of death. Today, Ramesh is alive but minus his voicebox. After his discharge from hospital, the couple faces a bleak future.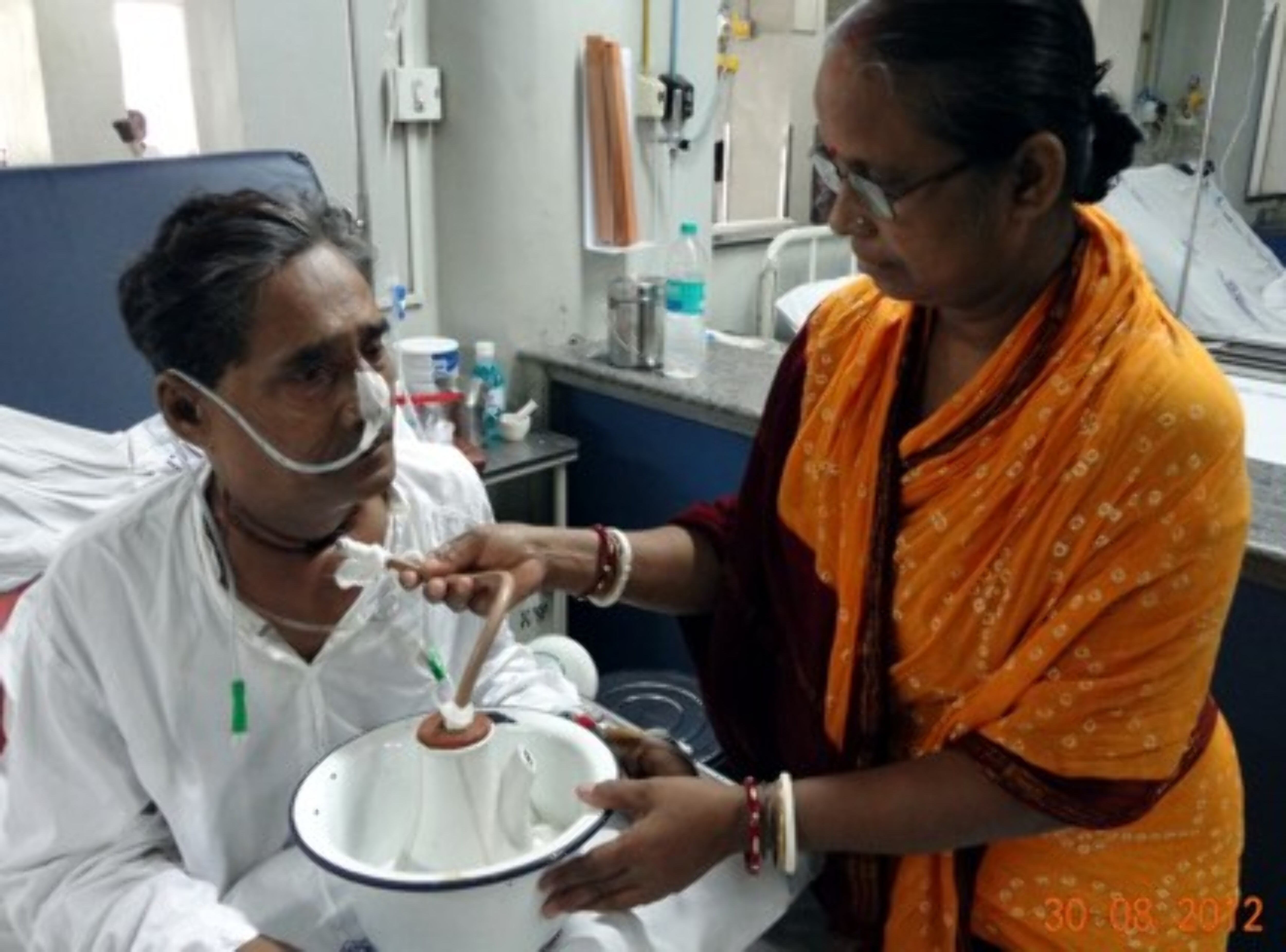 Ramesh and Sabita Chowdhury at Tata Memorial Hospital on 30th August
TOBACCO ADDICTION IN WEST BENGAL
West Bengal has the dubious distinction of being a state that leads in tobacco addiction. About one in two adult Bengali males (52.3%) smoke or consume tobacco as per the
Global Adult Tobacco Survey factsheet
for West Bengal http://tiny.cc/Tobacco-Use-West-Bengal . One in five adult women (19.3%) in the state are tobacco addicts. In West Bengal, tobacco addicts are initiated into this habit at the ages of 18-19, and over half of them (55.7%) feel the compulsive urge to take their first fix of tobacco within the first half-hour of waking up. Although over 85% of adults believe that smoking and smokeless tobacco products (such as gutka and khaini) cause serious diseases, it is a sad fact of life that most tobacco addicts are unable to quit as long as these products are freely available and aggressively marketed through advertisements.
Appearing on behalf of DFY, which is a humanitarian organization formed by doctors and medical students active in six states, advocate Varun Chopra argued, "The question before the hon'ble court is of implementation, and not interpretation of the mandatory regulation prevailing under the law." Rule 2.3.4 of the Food Safety and Standards (Prohibition and Restrictions on Sales) Regulations, 2011, states "product not to contain any substance which may be injurious to health: Tobacco and nicotine shall not be used as ingredients in any food products." This notification of the Food Safety and Standards Authority of India (FSSAI), a statutory body, came into effect on 1 August 2011.
Based on these mandates, 13 forward-looking states issued ban orders, namely Delhi, Mizoram, Madhya Pradesh, Kerala, Bihar, Rajasthan, Haryana, Jharkhand, Chattisgarh, Maharashtra, Himachal Pradesh, Gujarat and Chandigarh. In Himachal Pradesh, the ban will come into effect from 1 October 2012.
Most states are now conducting raids to seize such products, effectively throwing a lifeline to about 40 million tobacco addicts in India. It is hoped that the West Bengal government will not wait for court orders to do its constitutional duty of saving the lives of its citizens.
For more details, contact:
Advocate Varun Chopra -91 99999 99699 /91 98118 51711
——————————- ————————– ————————–
Issued on behalf of Voice of Tobacco Victims by Krish 9821588114
& other organizations
601/B, Great Eastern Chambers,
Plot No. 28, Sector 11, CBD Belapur,
Navi Mumbai - 400 614 India.
Tel No : 91 22 2757 5487 / 9032
Fax No : 91 22 2757 1786