Well known South Indian actress Navya Nair tied the knot with businessman Santhosh S Menon at Cheppad in Kerala on Thursday morning.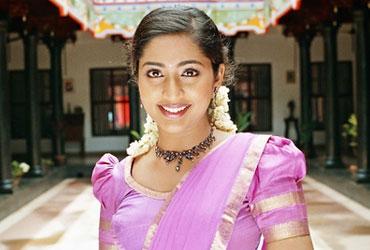 Navya Nair is well known for her powerful performances in Malayalam, Kannada and Telugu films.
Santhosh Menon, son of Narayana and Shantha Menon, originally hails from Changanassery in Kottayam district. He is presently working as the vice-president of a Mumbai-based exporting firm.
Navya Nair's marriage was conducted around noon at the CKHSS Grounds, Cheppad. It was attended by more than 1500 guests belonging to the film fraternity and politics including Malayalam actors Suresh Gopi and Thilakan, Tamil actor and director Cheran, KPAC Lalitha, Kaviyoor Ponnamma, Divya Unni, Menaka Suresh and Sona Nair.
CPI (M) State Secretary Pinarayi Vijayan, ministers G Sudhakaran and Paloli Mohammedkutty, Kerala Congress (B) leader R Balakrishna Pillai and his son KB Ganesh Kumar also attended the marriage.


Navya Nair entered the Malayalam film industry with a bang with the superhit Malayalam film Ishtam in 2001, and went on to win the Kerala Best Actress Award the following year for her performance in Nandanam.
She has also acted in many Tamil films. She made a grand entry into the Kannada film industry opposite Darshan with the blockbuster Gaja in 2007. She also acted opposite late Vishnuvardhan in Nam Yejamaanaru and Shivaraj Kumar in Bhagyadha Balegaara.
Her fourth Kannada film Boss is awaiting release.

Image: Navya Nair in a scene from Kanne Madanguka




Actor Navya Nair weds businessman
Actor
Navya
Nair ties the knot with businessman Santosh N. Menon at Cheppad in Alappuzha on Thursday. Photo: Special Arrangement South Indian actror
Navya
…
Navya Nair's wedlock today!
The popular Malayalam-Kannada-Tamil actress
Navya
Nair enters wedlock today. She is getting married to a Santhosh, who works in a multinational company in
…
Navya Nair ties the knot
Navya was wearing a red Kanchivaram Bavanji Sari. A reception will be held at a hall in Changanacherry(Santhosh's hometown) today evening at 6 pm.
Navya Nair Reception Photos, Navya Nair Wedding Photos Actress Navya Nair got married to Santhosh Menon at her home town Cheppad Cheppad in Alleppy. Santhosh Menon is from Changancherry and is working as a … Navya Nair ties the knot Noted Malayalam, Kannada and Tamil actress Navya Nair tied the knot with businessman Santosh N. Menon at Cheppad near Alappuzha on Thursday. … Navya Nair's wedding graced by film stars and politicians By Aeyana Chennai: Navya Nair's marriage, pictures: Yesterday, the nuptials of actress Navya Nair to Santosh Menon, a businessman took place in a grand way … Navya Nair Marriage photos, pics "available now" Navya Nair Marriage photos, pics "available now" – Southern film actress Navya Nair's marriage has been fixed by her family. … Navya Nair Marriage, Photos South Indian Extra Navya Nair was affianced to Santhosh Menon from Changancherry, who was alive as a vice-president of an commercial aggregation in Mumbai … Navya Nair marriage with boy friend Santhosh Menon pics from Cheppad Navya Nair got married to Santhosh Menon today in Cheppad. Navya Nair is popular Malyalam Actress and Santhosh Menon is businessman in Mumbai. … Actress Navya Nair ties knot Alapuzha, Jan 21 (PTI) Popular Malayalam actress Navya Nair today tied the knot with Santhosh N Menon, an executive of a multinational company at a function … NAVYA WEDS Navya Nair tied the knot with Santhosh Menon in Alappuzha in Kerala today (January 21st, 2009). The traditional Hindu rituals began at around 2 pm at the …
Navya Nair Engagement Photos Navya Nair Engagement Photos.On 21st January 2010 actress Navya Nair was engaged to Santhosh Menon from Changancherry, who was working as a vice-president …
Navya Nair Weds Malyalam film actress Navya Nair got married to Santosh Menon at a ceremony held at CKHS ground in Cheppad in Alleppy district this afternoon. …
Navya Nair marriage today
Allapuzha: Malayalam actress Navya Nair is all set to shed her bachelor life. The actress has been tying the nuptial knot today with her boyfriend Santhosh …
Navya Nair's wedding plans
Actress Navya Nair's wedding will be held on January 21, 2010 at her native place, Haripad near Allapuzha. She will be marrying Santhosh Menon. … Navya Nair to wed on January 21
Recently, actress Navya Nair was engaged to Santhosh Menon from Changancherry, who was working as a vice-president of an advertising company in Mumbai. … Navya Nair Marriage
Navya Nair Marriage. Marriage arrange were fabricated for Navya Nair who has been acting in films for the accomplished eight years by her parents. … Malayalam actress Navya Nair to tie the knot Thursday Alappuzha (Kerala), Jan 20 (IANS) Popular Malayalam actress Navya Nair will marry Mumbai-based Santhosh Thursday in her hometown. Santhosh is from Kottayam … Sivan and Sons Website Sivan and Sons Website News: recently announced that Navya Nair and Santhosh Menon marriage wedding picture & photos will be uploading after Navya Nair and … Nayya Nair Marriage Today: Watch Live by Sivan and Sons
Navya Nair, the Mayalam actress is ready to tie the wedding knot with Santhosh Menon on coming 21st. Their wedding has been planned at the home town of the … Wedding bells toll for Navya Nair
It's the Malayalam beauty Navya Nair who's tying the knot with her boyfriend Santhosh Menon. The wedding will reportedly take place today afternoon in … Navya Nair Wedding Marriage Today
Malayalam, Tamil and Kannada actress – Navya Nair will get married today