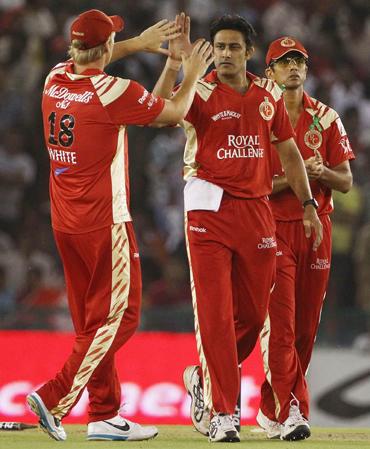 It has been a strange tournament for Kings XI Punjab, one where nothing has gone right for them.
The bowlers and fielders had a horrible outing and failed to hold their nerves when it really mattered. One's heart goes out to Preity for the way she has backed her team after every loss, but their losing never seems to cease. They have now lost seven out of their eight matches and are nearly out of the running for a place in the semi-finals and we are over halfway in the tournament.
What is even more disappointing that Punjab lost even after posting a mammoth 181 for five in their 20 overs. But this time their sloppy fielding was also to blame as they dropped as many as four catches at the stage when the match was evenly poised.
Royal Challengers Bangalore rode on Kevin Pietersen's maiden half-century, who hit 66 from 44 deliveries, with the help of seven boundaries and a six, for a convincing six-wicket victory.
Virat Kohli made an important contribution of 42 from 26 balls, but the most important and perhaps the match-turning innings came from Robin Uthappa.
Punjab were still in the hunt with Bangalore needing to score 48 from the last four overs. But Uthappa changed the script as he hit Brett Lee for two big sixes and a boundary for 25 runs in the 16th over to turn the match in Bangalore's favour.
The only positive for Punjab was the return to form for their two top batsmen. Kumar Sangakkara stroked a quick 45 from 27 balls, while Yuvraj Singh hit a couple of big sixes in his 20-ball 36.
So it was Bangalore who did the Balle Balle, while Punjab keep going Thalle Thalle