Meetings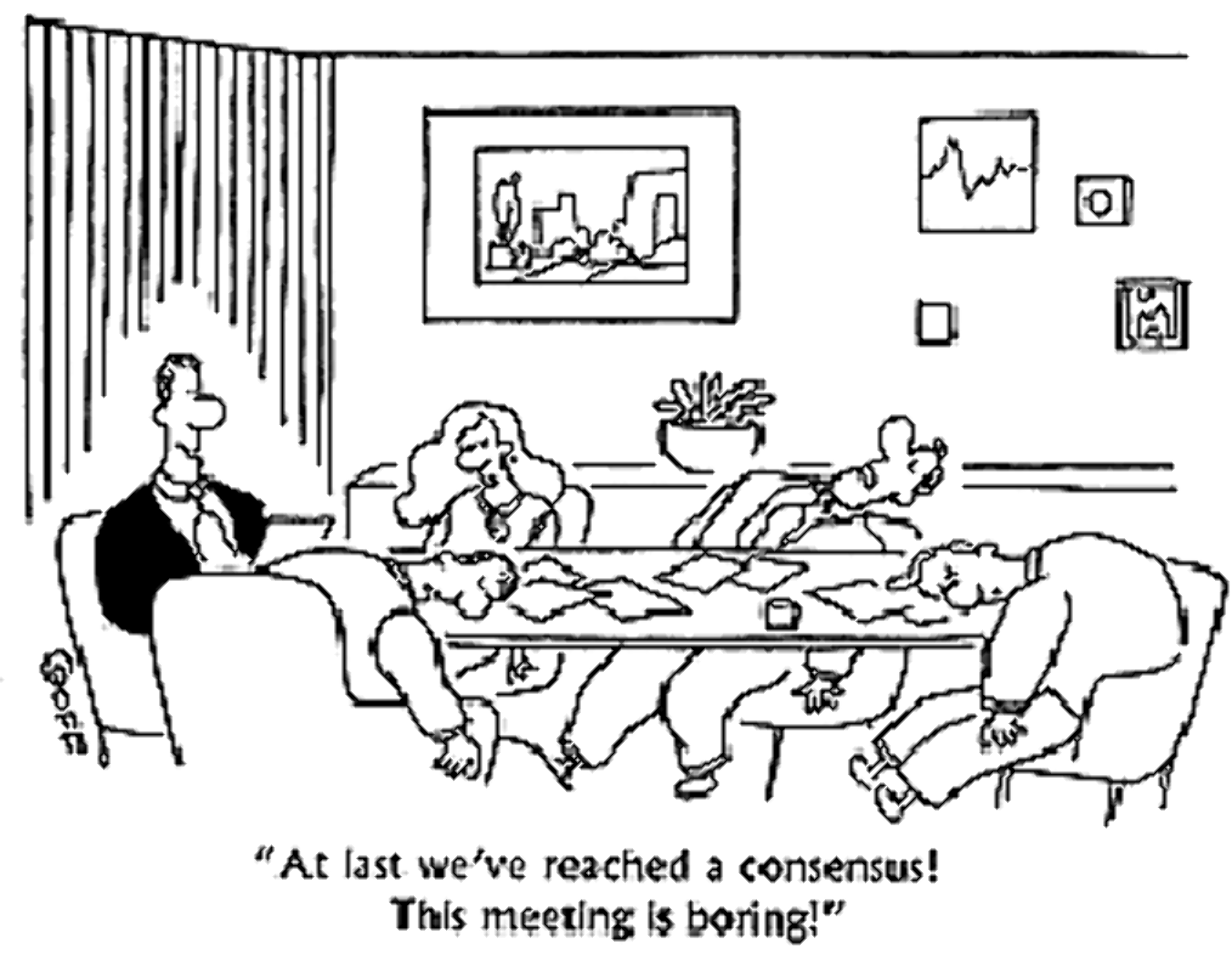 A couple of days back, I was caught in a meeting where people were revewing a project. It was a client review, wherein there were people from the client side (mainly government), an international donor that's funding the project and the project proponent, a private entity. I was part of none of them actually, but I represented the client side since I am a consultant to them through another private entity. Confusing, I know. Anyhow, usually I duck out of such meetings and send my colleagues some of whom gladly lap up the opportunity of exposure to prospective future employers. This is one time I could not manage to sneak out of it. And so, like a diligent professional, I carried my scribbling pad. My firm provides us rather huge A4 size writing pads which I find difficult to doodle on because they do not fold properly, and also because it is difficult to hide from the person sitting next to me. And I seriously intend to complain to the branding team that designs merchandise about this. I do not want to risk my reputation by not appearing busy as the rest of them on the table for a mere design fault of a notepad.
Moving on, the meeting started with boring proportions of cliches from all sides, with the client muttering some non-descript statements, clearly clueless about any sound evaluation parameters to review them on. The project proponent had gathered their entire entourage for this meeting, and the team leader, who hardly ever visits office, gave out some mighty jargons on things that they can take on. Two of his senior team members, who also visit the office with a similar frequency as him, supported his lofty suggestions.
Nobody from their middle management and incidentally, the team that actually executes the work at ground level, spoke a word. The donor representatives who were visiting from another country, listened to all the discussion that was going on with great enthusiasm and tried to put in their two cents. While one of them explained with great gusto how an ideal system could be chalked out with reference to another country, I doodled on with full concentration, pretending to appear attentive. As I looked up from my notepad, one of the executing team members seated opposite to me shot me a wink and a smirk. I knew most of their team, and I acknowledged his wink with a faux yawn. And then the senior bureaucrat at the client side started asking people individually if they had any feedback. The rule here is, unless you are individually asked, you never speak. You sit and pretend to be dumb and ignorant, but when and only when your name is called out shall thou speaketh. And whence thou speaketh, thou shall do so such that there be no tomorrow. In short, you blabber everything you ever knew, this is your chance to impress the room full of people. My colleague's name was called out and she pounced on this opportunity and made her ceremonial speech - I had heard her make this verbatim in 20 previous meetings, with more than 50% of common audience. "Blah blah…capacity building….blah…poverty expert…administrative reforms….citizen's charter…blah blah". This is how I usually hear most of these proceedings. A mundane series of repetitive words, heavy in their content, but negligible in intent.
I desperately prayed for the meeting to get over. It is not that I did not have an opinion. While these people spoke theories, I had a fundamental and pertinent question on the applicability of these theories. But I chose to text my concerns to the director at the client side whom I work with. She shot a glance at me, smiled and rolled her eyes, while the senior bureaucrat spoke on and on. The guy handling the laptop suddenly appeared to understand what was going on and vigorously nodded his head at whatever she said. The project team leader (again, who hardly attends office) shamelessly beamed at the customary praises from the client before the meeting was adjourned.
share this