2nd June 2012, Mumbai: When he was MMRDA's former Metropolitan Commissioner, Ratnakar Gaikwad – later made the chief secretary of Maharashtra — created a hideout for terrorists and Maoists amidst illegal garages next to the railway tracks. If the next terror attack is launched by some of the 2,000-thousand-odd "invisible tenants" living in about 422 tenements in building nos. R-14 and 15 of Somanigram Oshiwara, please remember to send a thank-you note to Ratnakar Gaikwad and also his successor Rahul Asthana. Neither MMRDA's officials nor Mumbai police are exercising any control over these tenants. The nine "estate attendants", each of whom MMRDA pays Rs 4,800 per month to frequent the area and provide security, are turning a blind eye to the illegal subletting of tenements that MMRDA has allotted to a "proposed" cooperative housing society in Andheri, or marked "vacant". Each of the 422 tenements that is illegally rented out generates Rs 6,000 in cash every month, plus about Rs 1 lakh "refundable" deposit — which these modern slumlords may not necessarily repay. RTI activist Sulaiman Bhimani has painstakingly collected documents that point at people who are pocketing the cash and endangering the city.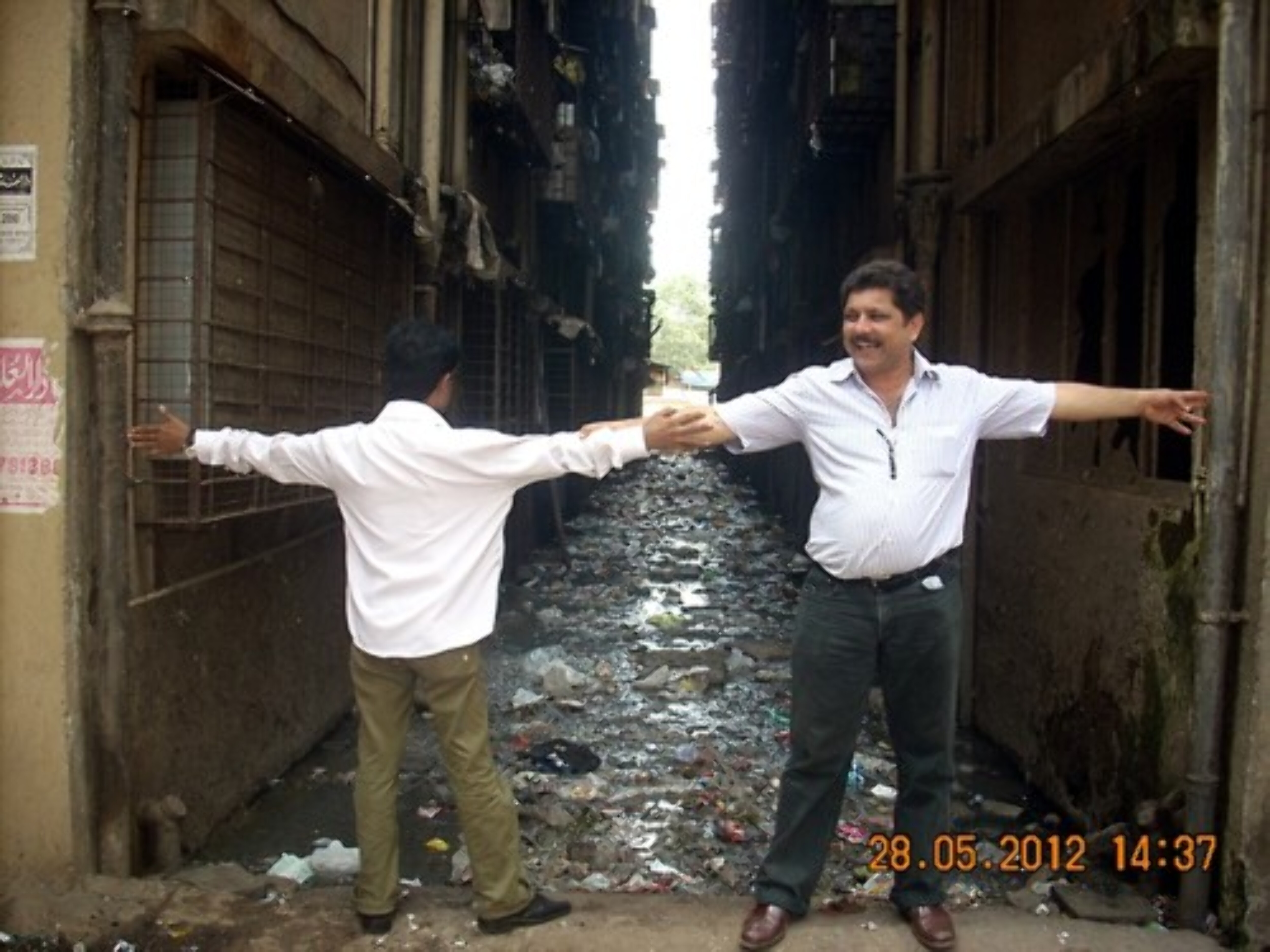 Mumbai is supposedly in a state of high alert. Letting out flats without furnishing the tenant's particulars to the local police station can land people in jail for six months under IPC Section 188 (Disobedience to order duly promulgated by public servant). Read this recent Mumbai Police order:
http://tinyurl.com/Mumbai-Police-Order-LL-Tenants
But hundreds of illegal tenancies have been created and are being shielded by MMRDA officers. Created by Ratnakar Gaikwad's actions during his tenure at MMRDA, this legacy is continued by his successor, Metropolitan Commissioner Rahul Asthana. Dy. Metropolitan Commissioner A R Wankhade has been hands-on in this matter throughout, and knows exactly what is going on. But he indulges in buck-passing and red-tapism. See the below correspondence:
A TERROR-STRIKE WAITING TO HAPPEN – PHOTOS & DOCUMENTS:
3.
SCAMMY DOCUMENTS WITHOUT THE NECESSARY DETAILS: Notarized undertakings accepted by MMRDA from "Sarvadharmiya Sanstha" in Dec 2007, with a BLANK FOR EVERY IMPORTANT FACT, FIGURE AND MILESTONE. These sham documents indicate that the office bearers of Sarvadharmiya don't have any locus standi to speak on behalf of the hutment-dwellers of Gilbert Hill.
http://tinyurl.com/Sarvadharmiya-Blank-Notarized
4.
MORE SCAMMY DOCUMENTS. In February 2008, based on the faulty documents submitted by the proposed Sarvadharmiya Sanstha that has barely 100 members eligible for resettlement, MMRDA draws up a faulty agreement with Grace Property India Pvt Ltd, a builder, and Sarvadharmi Sanstha (proposed) to provide transit camp accommodation in Oshiwara for 300 eligible hutment-dwellers by the road-widening on Gilbert Hill.
This agreement directly gives Grace, Sarvadharmi and others about 200 surplus tenements that they started renting out illegally.
Mysteriously, THIS AGREEMENT HAS NO WITNESSES, AND EVEN THE NAME OF THE DIRECTOR OF GRACE PROPERTIES IS NOT DISCLOSED:
http://tinyurl.com/MMRDA-Grace-Sarvadharmiya-MOU
6.
The above accommodation was allotted for a maximum of two years i.e. about February 2010. In the minutes of a meeting held at BMC, MMRDA backs out of the Gilbert Hill road-widening project. Strangely, BMC REFERS TO SARVADHARMI NOW AS AN SRA BUILDER. In a letter written on June 16, 2011, MMRDA's Social Development Cell directs Sarvadharmi and Grace to give vacant and peaceful possession by 15 July 2011. However, in a letter addressed in Hindi to MMRDA's Metropolitan Commissioner Rahul Asthana, Sarvadharmiya and Grace seek further extension:
http://tinyurl.com/MMRDA-Order-2-vacate-July2011
7.
Yielding to pressure from MLAs Amin Patel and Ashok Jadhav, and also Municipal Corporator Mohsin Haider, the date of vacant possession is extended till end-August 2012. See minutes of meeting and also concerns expressed by MMRDA's Social Development Cell (handwritten notes) about ineligible PAPs occupying the building:
http://tinyurl.com/Sarvadharmiya-ext-August-2012
8.
FIR LODGED IN GOREGAON POLICE STATION in May 2011 against Nizam Khativ (alias Sayed Nizamuddin Shamsuddin), secretary of Sarvadharmiya. Without laying a single brick, the builder and the office-bearers of Sarvadharmiya derive regular monthly income of over Rs 25 lakhs (422 flats @ Rs 6000 pm), and are holding "refundable deposits" estimated at Rs 4.2 cr (@ Rs 1 lakh per flat).
Nizam Khativ is accused by a tenant of cheating (IPC section 420) for refusing to return Rs 1 lakh security deposit
:
http://tinyurl.com/FIR-Sarvadharmi-chief-promoter
As the due date for surrendering the flats to MMRDA — August-end 2012 – is nearing, there is pressure on Grace, Sarvadharmiya and their henchmen to give up their monthly income, refund Rs 4.2 crore to tenants, and spend money on repairing 300 badly-maintained flats before surrendering them to MMRDA. So, expect the delaying tactics to continue!
MORE MATERIALS FOR MEDIAPERSONS:
c)
For more documents and contact details of the promoters of Sarvadharmiya Sanstha, Grace Property Pvt Ltd and MMRDA officials, get in touch with RTI Activist Sulaiman Bhimani
9323642081.
Warm Regards,
Krishnaraj Rao
9821588114
Building.RTI.Union@gmail.com